Most Online Businesses Suck.
Especially if you have no idea what to sell, right? And if you're like most students I work with, you want to create an online business so you can make more money...
not waste more time guessing how to set up the business!
Well, the reality is this:
Most Online Businesses Are Way Too Expensive and Complicated For Beginners!
Think about it! There is a reason most new sellers online fail. It's because they are trying to start a business that is too expensive and complicated.
So if you're spending months and thousands of dollars trying to build your own website then...
You Are Wasting Your Time and Money!
I mean... has it worked so far? If you're like most who have come to me for help then the answer is likely a "no."
But that's okay! Because it's not your fault. You see, most online businesses are doomed to fail...
Why Most Online Businesses Fail:
Most people I meet who jump into online business fail very quickly because when it comes to most online businesses, the odds are stacked against you.
But what if there was something that turned the whole system upside down and made it easier for beginners like you to get started?
Most Online Businesses Are Too Expensive
Think about this: In order to be successful with a traditional online business, you're going to have to pay for a website, inventory, marketing, Facebook ads, a warehouse, staff, etc.
This can easily cost you thousands of dollars before you even sell your first product. It can take a year to start turning a profit (if ever).
And they're way too complicated
But let's say you have thousands of dollars to risk. You still need to learn to code, learn marketing, learn product research, etc.
It's no wonder 9 out of 10 new businesses fail!
There is a simpler way to sell online
Luckily, there is an easier way to get started that actually works. It's called...
Facebook Marketplace Dropshipping
Facebook Markeplace Dropshipping Is YOUR Solution.
Facebook Marketplace Dropshipping is a simple yet powerful business model that allows you to sell items without actually holding any inventory. This means that without any costly investment, you can start selling sought-after items to buyers around the world!
First, you create your Facebook Marketplace listing for a product. Once it sells, you just go to an online retailer's website (such as Amazon or Walmart), purchase it, and ship it directly to the buyer. Amazon literally ships the orders to your customers for you! You keep the difference in price, earning yourself a nice profit in the process!
Facebook Dropshipping Is Much Simpler
In fact, even though I've sold millions of dollars online and have tried countless online businesses, Facebook Dropshipping is the simplest way I've found to sell products online. Here is what makes it so awesome:
No complicated website to sell on. Facebook Marketplace is simple to use and simple to master.
 No paid ads. You don't need to spend thousands on ads for a product that might never sell. There are customers on Facebook Marketplace ready to buy your items now.
 No large upfront investment. Since we aren't buying any items until someone buys the item from us, the cost to get started is very low.
 No complicated fees. Other marketplaces have complicated fee structures; not Facebook Marketplace. They have one flat, low fee.
BUT I GET IT!
Reading this you're probably thinking...
"Why would my customer buy from me on Facebook if it's cheaper on Amazon? After all, I shop around!"
Well . . . good for you! But not everyone shops around all the time. Some people can't be bothered to compare prices. Some people can't be bothered to bargain shop. They know they might not be getting the best deal but they don't care because they like the convenience of shopping on Facebook Marketplace.
They're paying for convenience!
Here is what makes it so awesome: most people already have a Facebook account. Which means, they already have access to Facebook Marketplace.
And most people have the Facebook app on their phone. Which means they can buy your stuff off of Facebook Marketplace with just a single click 24 hour a day, 7 days a week! And because that's so easy to do, they'll buy your stuff without ever shopping around or comparing prices.
BUT...
Will anyone ever buy from you if they never see your products?
NO!
So what's important here?
You need to learn how to get the right products, in front of the right customers, at the right time.
You want MORE sales, not less, right?
The reality is, Facebook Marketplace dropshipping only works if you get every piece of it right. Messing up any part of it means leaving money on the table!
So now that you see just how Facebook Marketplace Dropshipping is the perfect business for beginners, you may begin to feel the slightly daunting and intimidating task of actually getting started...
ARE YOU CURRENTLY STUCK AND NOT SURE HOW TO START?
If you're like most who have read this far, you're starting to see the possibility of a Facebook Marketplace Dropshipping business and what it can do for your life... but you're probably imagining yourself starting at a blank screen while asking yourself, "What the heck am I supposed to sell!?"
"Where do I find these products? How do I even create a listing on Facebook Marketplace?" It can be so daunting and intimidating that you avoid it and find other ways to stay busy and distracted. And I get it.
But here's a little secret for you:
There is a formula you can follow to find profitable products to sell every single day.
You see, there is a BLUEPRINT to a successful Facebook dropshipping store. And this blueprint consists of three parts or pillars. And if you're missing even just one, you run the risk of never making a single sale.
So that begs the question...
How do you start a successful Facebook Dropshipping store!?
Answer:
Just Follow The Blueprint!
Set things up the right way and learn the product research formula and you'll be off to the races!
So, what if you had the step-by-step instructions for each part of the blueprint? Imagine if you could follow these steps while someone holds your hand through the process . . . EVEN if you've never sold anything online ever before!
No more overwhelm!
No more wondering if your products will sell!
No more wasting time or money!
Imagine for just a moment...
... that you had a step-by-step process for building a wildly successful Facebook Marketplace Dropshipping business...
...imagine you could start making sales in less than one day ...
...you could have a profitable Facebook Marketplace Dropshipping business in less than a month!
Wouldn't that be nice?
Well, you don't have to "imagine" any longer. Because... it's here.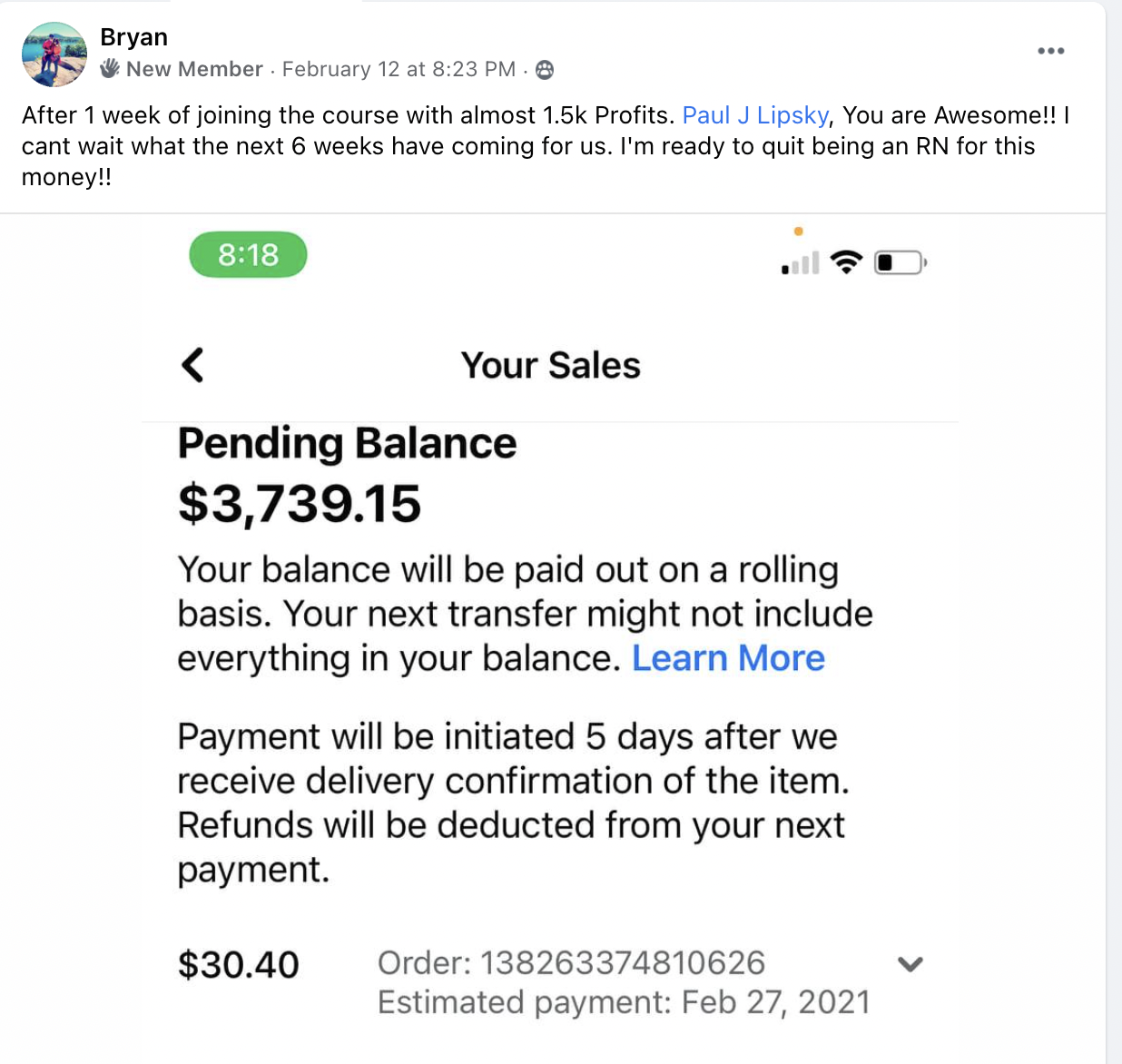 "After 1 week of joining the course with almost 1.5k Profits"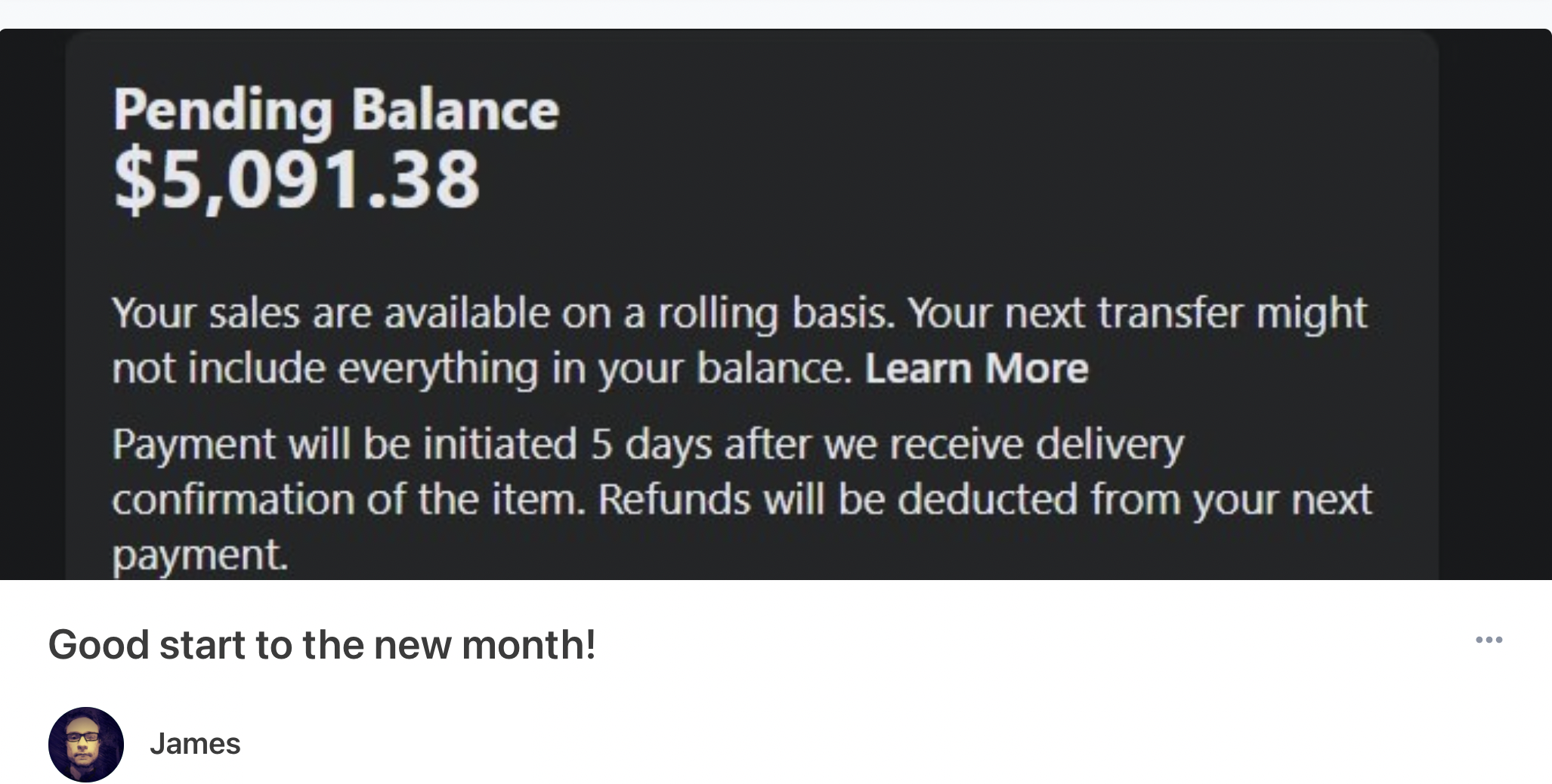 "11k gross in 45 days. A 48% ROI. Thanks for the guidance Paul"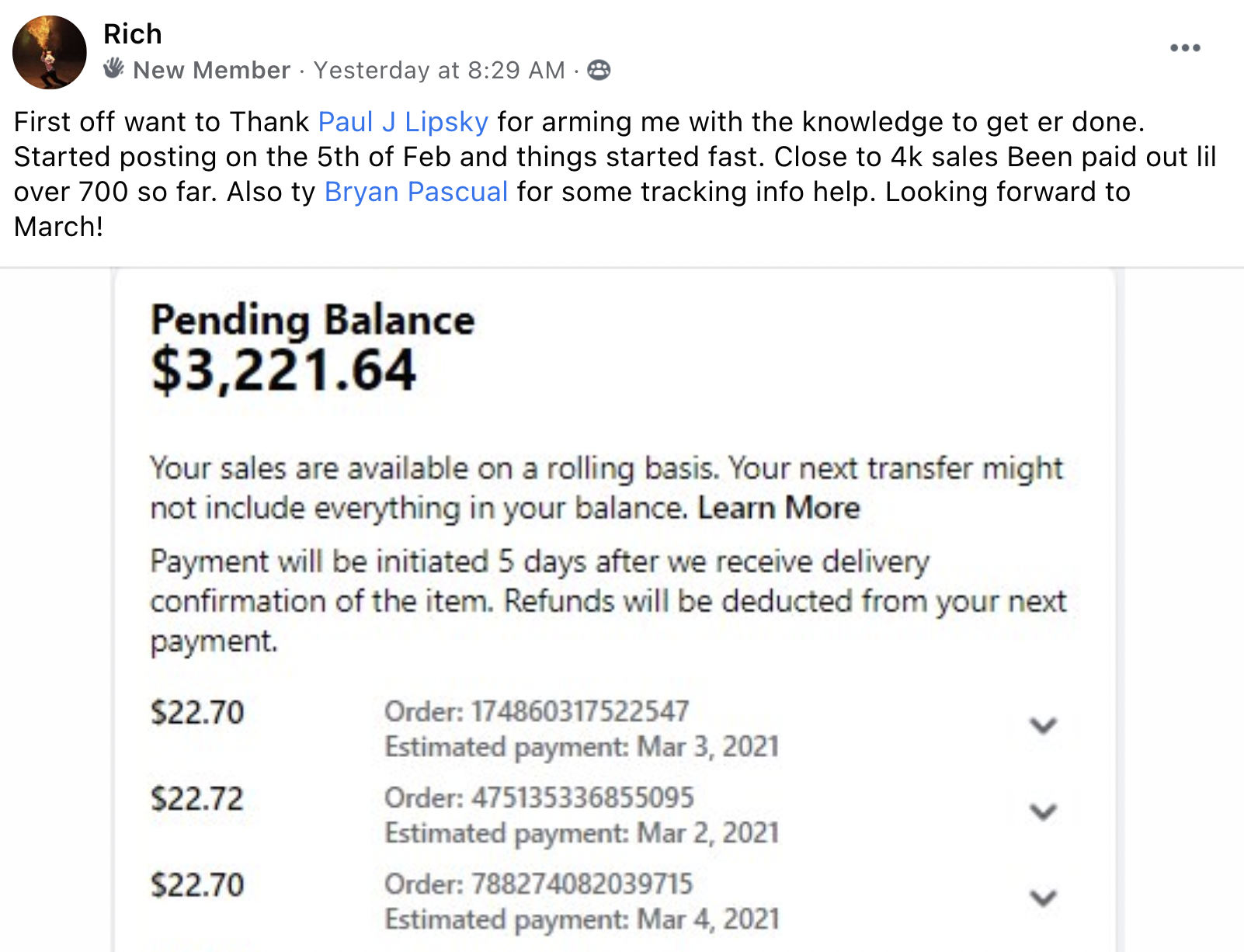 "Want to thank Paul for arming me with the knowledge to get er done"
Each section of 
Marketplace Dropshipping Titans
 is laid out in order to walk you through the three pillars of creating a successful Facebook Marketplace Dropshipping store: 
Setup! List! Fulfill Orders!
You will follow short videos and exercises designed to take the thinking and heavy lifting out of creating your store. Plus, you'll get detailed, plug-&-play listing templates and ready-to-go customer service scripts to make running your store SIMPLE and FUN!
_____________________________
"These courses are the best courses I have ever purchased online."
"I am a recent purchaser of your Marketplace drop shipping courses.
These courses are the best courses I have ever purchased online. They are clear and go into the simplest of things to clear up possible questionable details.
Admittedly I have purchased quite a few courses online."
- Lynn, Marketplace Dropshipping Titans Student
Module 1: How To Be Successful With Facebook Marketplace Dropshipping
Every great house starts with a great foundation. Without the foundation, the house will crumble. The same is true for Facebook Marketplace Dropshipping!
Inside the first module of Marketplace Dropshipping Titans, I show you what dropshipping is and how Facebook Marketplace works.
You'll need this info before I show you the step-by-step training that walks you through exactly how to NAIL the entire Facebook Marketplace Dropshipping process!
Imagine how much easier and fun it will be to build a business when you can simply follow my step-by-step videos and formulas in each section!
I'm not just going to tell you what dropshipping is and how it works. I'm giving you everything you need to be successful on Facebook Marketplace!
Module 2: How To Setup Your Store Fast - The Set It and Forget It Way!
Some parts of dropshipping aren't that exciting. But let's get real - if you want to have a successful Facebook Marketplace Dropshipping business, you need to set up a Facebook Marketplace account!
That's why I'll quickly show you step-by-step how to get set up on Facebook Marketplace. The best part? Once you do this once, you never had to do it again!
Just set it and forget it.
I'll also reveal the top suppliers I use for my Facebook Dropshipping business!
Module 3: My Famous Three Step Product Research Formula!
Get inside my brain! When you've been dropshipping for 5 years in numerous marketplaces, how much will it help to get inside my brain and see exactly how I approach product research and why it's so different than most?! In this section... 


I'll reveal my exact product research formula!
This is the exact formula that catapulted my own sales and made me the successful dropshipper that I am today.
You'll discover:
Why my backwards approach to product research has allowed me to grow my sales faster than all my peers
How to find winning products every single day using a proven step-by-step formula
The exact places I go to find highly profitable products that no one else is looking at
Module 4: Creating the Perfect Listing That Sells Itself
It doesn't matter how good your store is or how good your product research is if buyers never see the item you list on Facebook Marketplace!
You need to list items the right way so the right customers see them at the right time! In this module, I show you the easy, fast, and simple way to list products.
I'll also give you my plug-and-play listing template that has been proven to boost sales. Plus I'll reveal:
How to build awesome titles that attract buyers who are ready to buy now!
Module 5: How To Maximize Profit When You Fulfill Orders
Okay, so congrats! You made your first sale. Now what?
In this module, I show you step-by-step how to fulfill your orders. I literally say "click here" and you click there. It's that easy!
But there's more! I'll also reveal my tricks for making extra money on every sale without having to sell more items.
And if you're worried about selling items that are out of stock or whose price has changed, don't be! I reveal the software we use to make sure that that never happens! It's all automated (don't you love that?)!
Module 6: Customer Support and How To Upload Any Tracking Number to Facebook
Lots of dropshippers get stuck here. They fulfill their order and then Amazon sends them a tracking number they think they can't upload into Facebook.
I'll reveal the secret that we use to upload tracking numbers successfully 100% of the time so we get paid by Facebook fast for all of our orders.
Plus I'll also teach you how to deal with customers and how to negotiate with them so you can make more money on each sale.
Module 7: My Top Profit Hacks!
This is the secret stuff. The stuff no one else is willing to talk about and that I never reveal for free on YouTube.
This is how you can sometimes double your profit on every sale with some simple, quick, easy hacks. Yes, I said double your profit!
These are powerful techniques that I came up with and that I'm sharing with you as part of this program. So if you want to make more while selling less (yes you heard that right), then this is the module for you!
AND CHECK OUT THESE RESULTS!
If you're ready to make your dream life a reality, then don't waste another day imagining your success. Register for the Marketplace Dropshipping Titans course now to begin your journey to operating a lucrative dropshipping business!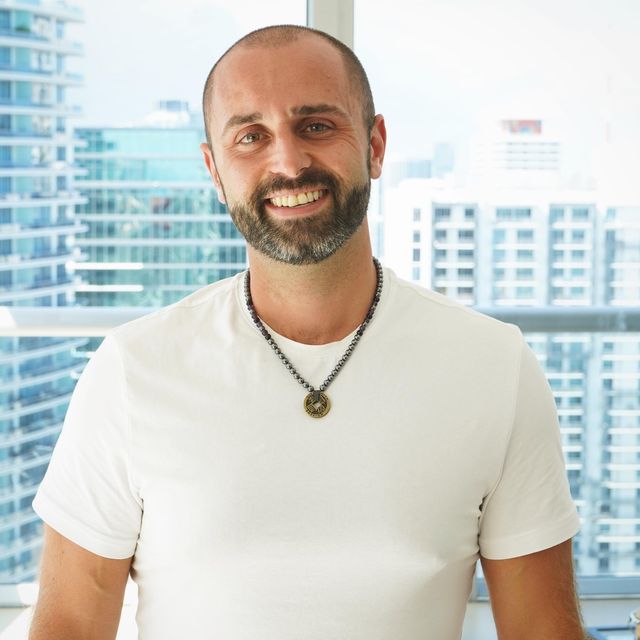 "I can't think of a better person than Paul to learn about dropshipping."
"Paul's a really good friend of mine. He's helping tons of sellers to start dropshipping businesses. I can't think of a better person than Paul to learn about dropshipping."
- Steve Raiken, Raiken Profit YouTube Channel
The fact that you're reading this section means you already know how amazing Facebook Marketplace Dropshipping is, but perhaps you still have a bit of doubt. Hesitation. Risk. I get it. Like…
"This sounds too good to be true! How am I supposed to know this is really what I need?"
Well… that's simple. Try it.
When you enroll, you'll have 30 days to go through EVERYTHING inside the program, and if for whatever reason… and I mean ANY reason… if you don't feel like this was the best investment you've made simply email me at [email protected] and we'll gladly refund your entire investment…
No questions asked!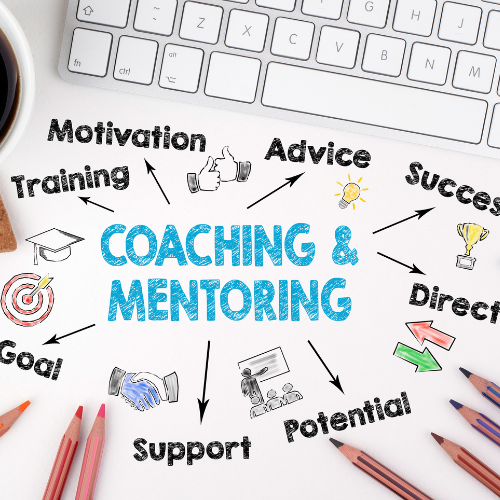 12 Weeks of Recorded Group Coaching Calls
$2,500 Value
I normally charge over $1,000 a month for group coaching calls. What I realized though, is that every time I start a group coaching program, the students ask the same questions every time.
So instead of charging you for calls, I'm giving you access to 12 previously recorded group coaching calls for free. I guarantee you that any questions you have will be answered in the course or in one of these calls! It's a win-win!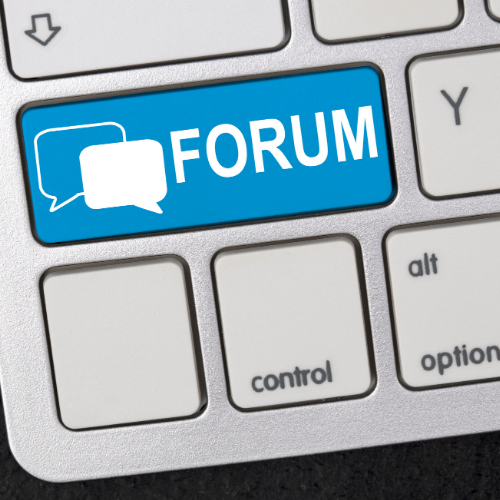 Private Mastermind Forum
$1,200 Value
After enrolling, you will get access to a private forum where you can ask questions, get help from other students, and inspire other students with your results!
Many students have told me that this alone is worth the price of enrollment. It has been so critical to the success of so many of my students.
Other courses charge $100 a month for a cruddy Facebook group. I'm including access to this professional forum for free to you today!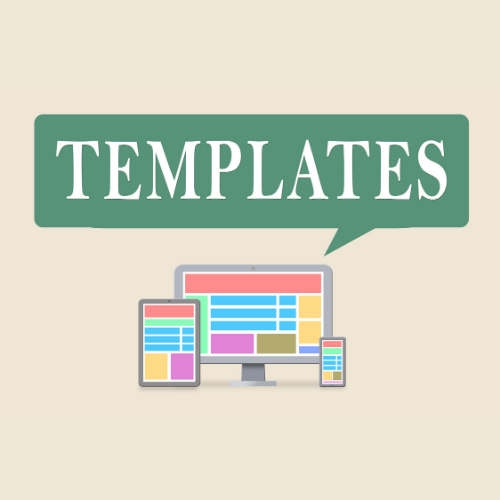 Customer Service Scripts
$100 Value
Prewritten customer service scripts that you can use to answer any of your customer's hardest questions.
Just look up the question in the scripts, copy the answer and send it to your customer. It's that easy!
Don't try to guess how to respond to customers; my scripts tell you exactly what to say every single time.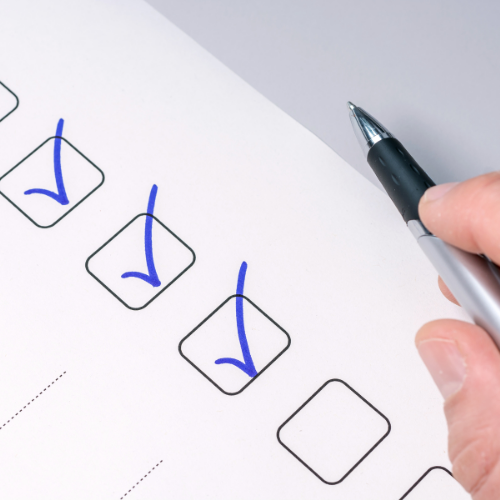 Daily To-Do List
$100 Value
In order to run a successful Facebook Marketplace Dropshipping business, there are a few things you (or your virtual assistant) need to remember to do every single day.
Use this daily checklist to make sure you never forget any of the important tasks needed to keep your Facebook Marketplace account running smoothly!
Use this daily, and you'll never mess anything up!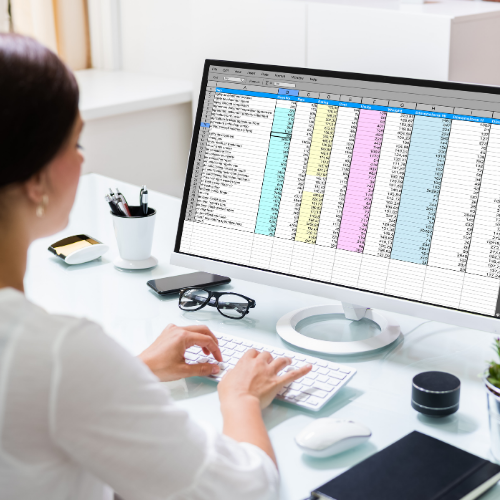 Spreadsheets To Stay Organized
$100 Value
After a few weeks, you're going to have a lot of listings and sales to keep track of. I'm a stickler when it comes to organization.
After all, if you don't track it, you'll never know how much profit you're making! And that's no fun!
I'll provide you with spreadsheets to keep track of your listings and sales so you don't have to worry about staying organized.
It's plug and play!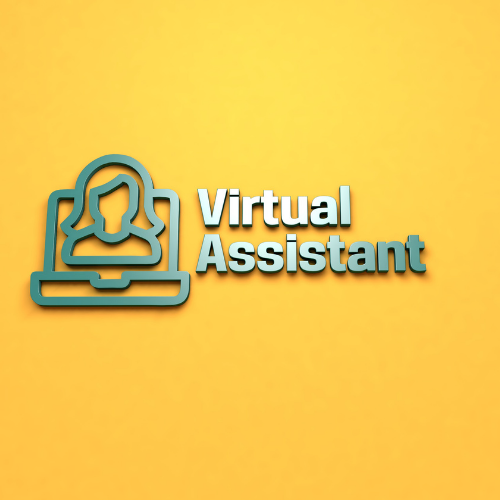 Virtual Assistant Mini Course
$299 Value
How would you like to hire people for about $3 to $4 an hour to run your entire Facebook Marketplace Dropshipping business for you?
Well, it's possible with Virtual Assistants! In this complete mini-course, I show you exactly where you can find these assistants, how to hire them, and how to train them to run your entire business.
This is a game-changer. Imagine if your business could make money on auto-pilot while you just collect the profit! That's the power of virtual assistants!
Ok, Let's Recap!


When you join
Marketplace Dropshipping Titans,
you'll receive instant access to everything you need to create a wildly successful Facebook Marketplace Dropshipping business! Including...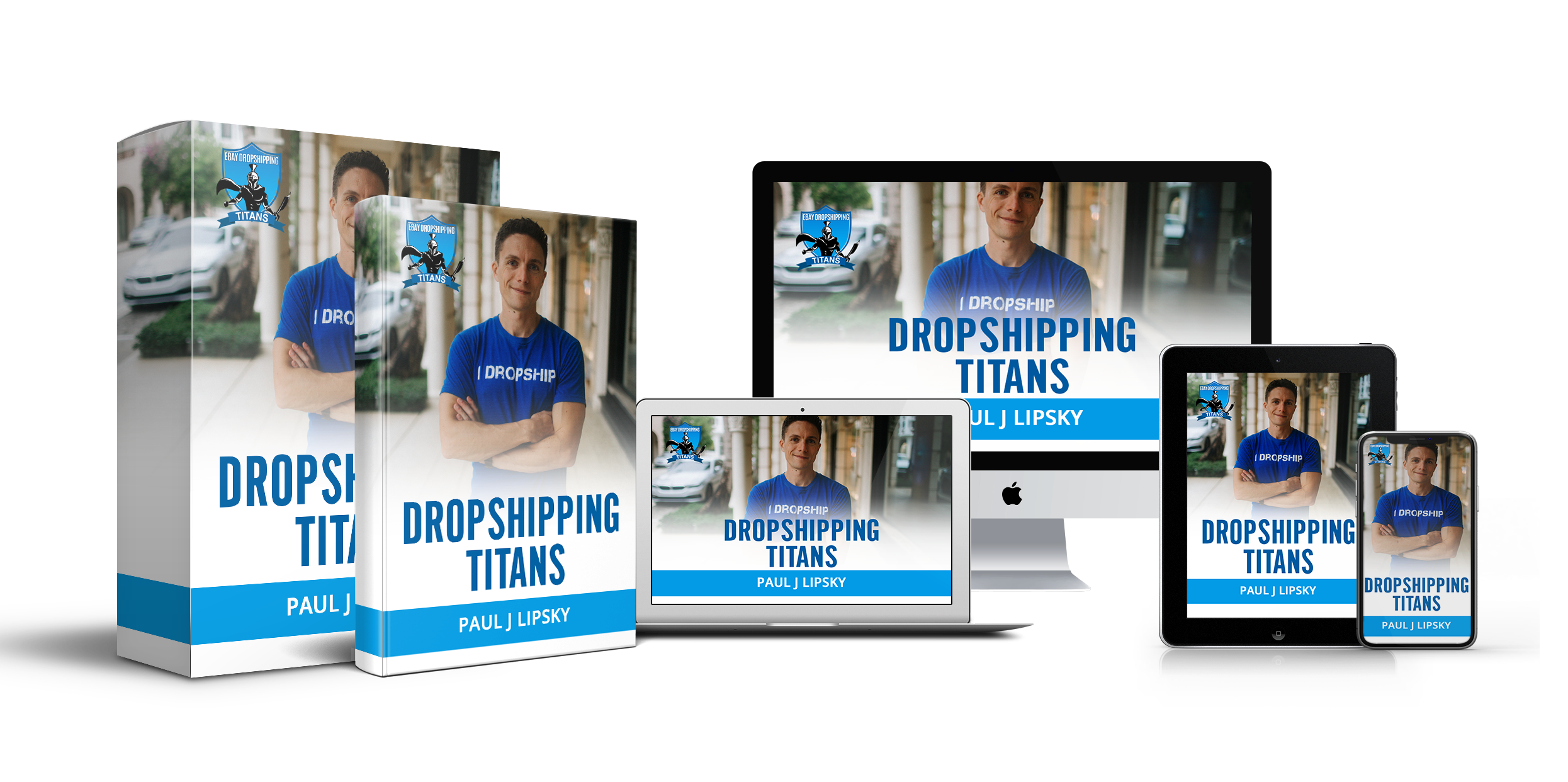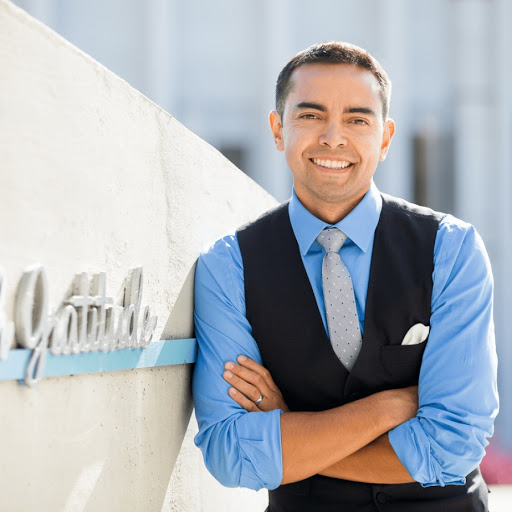 "Paul's helping people make money dropshipping"
"Paul's helping people make money dropshipping. He's awesome, a good friend. Thank you, Paul! Follow him, check him out, he's awesome!"
- Pat Flynn, Founder, Smart Passive Income
The Reason Most Dropshippers Fail!
Many people try dropshipping but most fail. You see, they spend so much time and energy setting up their store, finding great suppliers, making listings, and negotiating with customers.
But they continue to struggle to make money! Why?
Maybe this is what you've done in the past? You've done everything "right" but still haven't made any profit.
Maybe you then tried a different online business only to face the same challenge. How is it that some people get it right when others don't?
In essence, they are getting left behind.
And the reason is that most people are doing dropshipping ALL Wrong! Facebook Marketplace Dropshipping is NOT about any one single sale or listing...
NO!  
Dropshipping is About One Thing:  
Getting The Right Products In Front of The Right Customers At The Right Time!  
Think about it! Every item you've bought online you purchased because it was exactly what you wanted and exactly when you wanted it.
Have you ever considered that one of the biggest reasons you're struggling with dropshipping is because you haven't learned how to do product research the right way?
How valuable is it when you can find highly profitable items every single day to list onto Facebook Marketplace?
If you already have a high-performing dropshipping business that is breaking records... you don't need this training... you need to be celebrating! 
But, if you currently don't have a dropshipping business, or the one you have isn't doing what it's supposed to be doing (make money), then your options are simple:
You can choose to do nothing... and then of course nothing changes. The problem just becomes worse.  
OR you can choose to be the CAUSE IN THE MATTER and do something about it.  
You can choose to avoid the problem all together and hope that it will magically go away (it won't).
OR you get 100% Committed to doing something about it!  
If you choose the latter, then now is your time to get signed up and get started!
Otherwise, you can just click right off this page!
But CHOOSE Quickly!
Marketplace Dropshipping Titans is only open this year for a few short days, which means you will not be able to get your hands on this valuable of information once enrollment closes. Which means there has never been a better time than Right Now to get started!
But if you put this off, what will change? Don't wait! You can get started today!
Join Now & Create The Dropshipping Business You Deserve!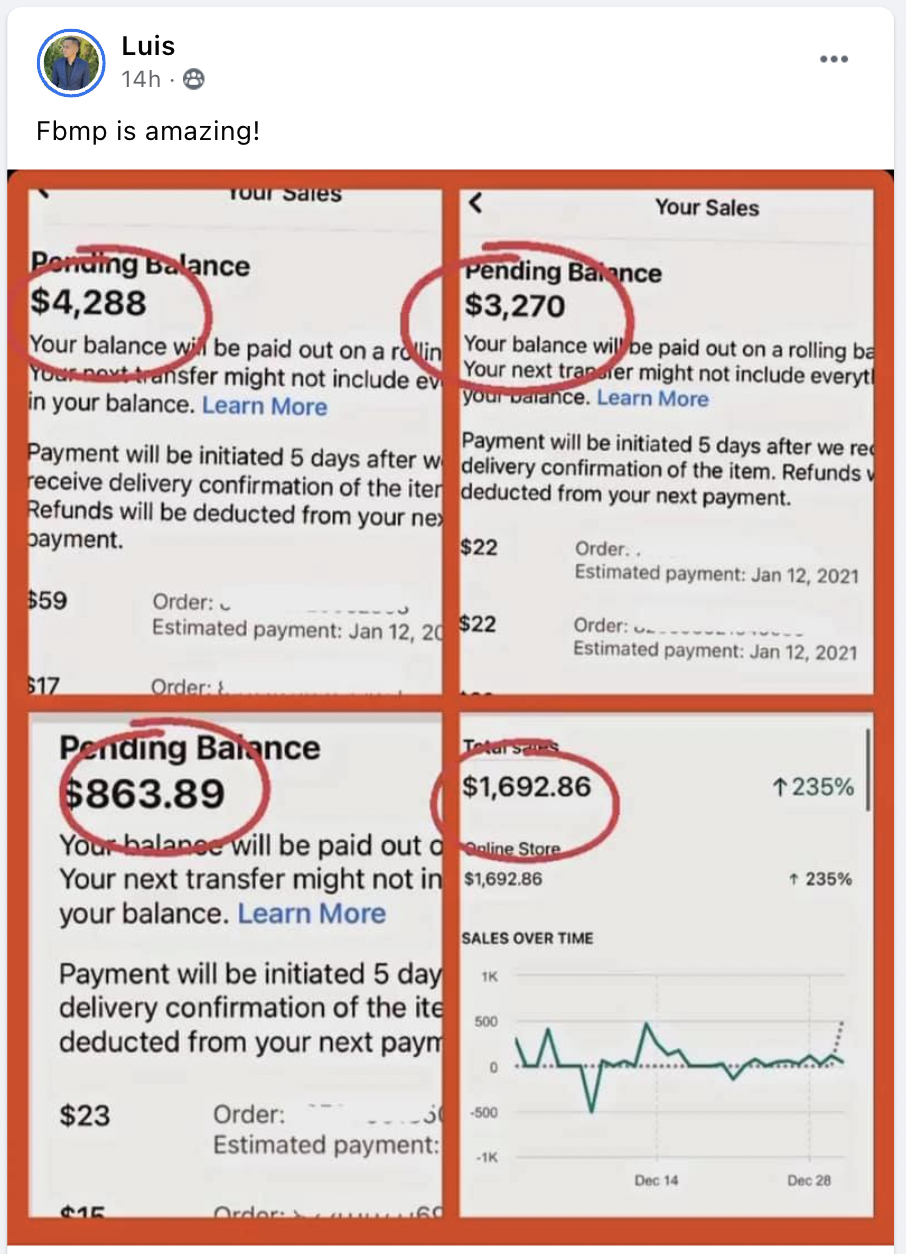 "Facebook Marketplace Dropshipping is amazing"
Luis, Marketplace Dropshipping Titans Student
🤔 Frequently Asked Questions 🤔
👉 What makes students who have taken this course, and the testimonials I have seen, so successful?
I set out to create a step-by-step system that will help you cause a BREAKTHROUGH in your dropshipping business. I don't just tell you what to do, I show you. Just like a Lego© provides you with a step-by-step instruction manual for each of its models, you'll get the same. So you're going to get the experience of producing real results for yourself.
👉 If I'm just getting started and don't have a dropshipping account yet, is this course good for me?
Yes! Because I show you step-by-step how to get setup. The beautiful thing about this system is that it works for new and seasoned dropshippers. So yes, even if you're new to the business this is 100% for you too!
👉 Won't buyers get mad if they see the item came from Amazon?
I have found that only about one out of every one thousand buyers complain about where the item came from. Just think about it - if you're like me then when you get a package in the mail, you immediately rip it open and don't even look at the invoice. Plus, many sources make it easy to hide the price and company from your buyer.
👉 Why don't customers just buy the item directly from Amazon for cheaper?
I doubted this business model myself before I got started, but those doubts have been shattered. The truth is: many buyers just don't like to shop around. They already spend a ton of time on Facebook so it's just easier for them to shop there. They don't care if the price is lower somewhere else. They're paying extra for convenience and are happy to do so.
👉 What if I don't have the "shipping option".
Inside my course, I teach you how you can still dropship on Facebook Marketplace even if you don't have the shipping option yet.
👉 What if the item I sell is out of stock or the price changed on Amazon? Won't I lose money?
Not to worry! We have software that prevents that from happening. That's right, the software checks the price and stock levels on Amazon every hour for any changes. Inside my course I show you step-by-step how to set it up and use it. It's simple with my instructions!
👉 How much time will it take to complete the course?
That's ultimately up to you. But if you give me the weekend, you'll walk away with a store that's completely set up with some winning products in it. A couple of weeks later and you could have a store FULL products that could be selling like crazy.
And if that feels overwhelming to add to your existing "to-do" list then I'm here to tell you that Marketplace Dropshipping Titans is the ANTIDOTE to overwhelm. It's designed to get you set up step-by-step so can take the hassle and stress out of the whole process.
Then you can hire virtual assistants to run everything for you!
👉 I have a store already but I haven't been making much or any money, will this course help?
You better believe it! And I know because I followed the EXACT process you're about to get to grow my own business!
👉 I have ZERO experience, do I need to be tech-savvy to do this?
No. It's never been easier (and cheaper) to start dropshipping than RIGHT NOW. Remember, Facebook makes it easy to sell products. The more money you make, the more money they make! So they want you to succeed!
So no matter how hard or confusing you may think it is right now, the "techy" stuff doesn't have to limit you or keep you stuck any longer.
👉 What can I expect when I enroll in Marketplace Dropshipping Titans?
Upon completing your enrollment, you will receive an email immediately. Your purchase includes INSTANT access with lifetime updates to all of the material. All bonuses will be available to you in the first lesson!
👉 If I don't like the course, can I get a refund?
We have a 30-day no-risk, money-back guarantee. Try the program in its entirety and if you do not like your results at the end of the 30 days, we will give you a full refund of your purchase. Please contact our Customer Success Team at
Why would I do this? Because I know this works! And when you are so convinced of how effective something is, you can put your money where your mouth is! That's how much I believe in this training.
👉 Can my virtual assistants go through this course with me?
Yes! And I encourage it! I understand the value of working together as a team and having the whole team work collectively on your business is the perfect way to make it all work!
👉 How long will I have access to the course?
You will have lifetime access. All you have to do is log in to your Dropshipping Titans member portal and Marketplace Dropshipping Titans will be there!
EARNINGS DISCLAIMER
WHILE WE MAKE EVERY EFFORT TO ENSURE THAT WE ACCURATELY REPRESENT ALL THE PRODUCTS AND SERVICES REVIEWED ON THIS WEBSITE AND THEIR POTENTIAL FOR INCOME, IT SHOULD BE NOTED THAT EARNINGS AND INCOME STATEMENTS MADE BY DROPSHIPPINGTITANS.COM AND ITS ADVERTISERS / SPONSORS ARE ESTIMATES ONLY OF WHAT WE THINK YOU CAN POSSIBLY EARN. THERE IS NO GUARANTEE THAT YOU WILL MAKE THESE LEVELS OF INCOME AND YOU ACCEPT THE RISK THAT THE EARNINGS AND INCOME STATEMENTS DIFFER BY INDIVIDUAL.
AS WITH ANY BUSINESS, YOUR RESULTS MAY VARY, AND WILL BE BASED ON YOUR INDIVIDUAL CAPACITY, BUSINESS EXPERIENCE, EXPERTISE, AND LEVEL OF DESIRE. THERE ARE NO GUARANTEES CONCERNING THE LEVEL OF SUCCESS YOU MAY EXPERIENCE. THE TESTIMONIALS AND EXAMPLES USED ARE EXCEPTIONAL RESULTS, WHICH DO NOT APPLY TO THE AVERAGE PURCHASER, AND ARE NOT INTENDED TO REPRESENT OR GUARANTEE THAT ANYONE WILL ACHIEVE THE SAME OR SIMILAR RESULTS. EACH INDIVIDUAL'S SUCCESS DEPENDS ON HIS OR HER BACKGROUND, DEDICATION, DESIRE AND MOTIVATION.
THERE IS NO ASSURANCE THAT EXAMPLES OF PAST EARNINGS CAN BE DUPLICATED IN THE FUTURE. WE CANNOT GUARANTEE YOUR FUTURE RESULTS AND/OR SUCCESS. THERE ARE SOME UNKNOWN RISKS IN BUSINESS AND ON THE INTERNET THAT WE CANNOT FORESEE WHICH COULD REDUCE RESULTS YOU EXPERIENCE. WE ARE NOT RESPONSIBLE FOR YOUR ACTIONS. THE USE OF OUR INFORMATION, PRODUCTS AND SERVICES SHOULD BE BASED ON YOUR OWN DUE DILIGENCE AND YOU AGREE THAT THIS WEBSITE AND THE ADVERTISERS / SPONSORS OF THIS WEBSITE ARE NOT LIABLE FOR ANY SUCCESS OR FAILURE OF YOUR BUSINESS THAT IS DIRECTLY OR INDIRECTLY RELATED TO THE PURCHASE AND USE OF OUR INFORMATION, PRODUCTS AND SERVICES REVIEWED OR ADVERTISED ON THIS WEBSITE.






FTC LEGAL DISCLAIMER
RESULTS MAY VARY AND TESTIMONIALS ARE NOT CLAIMED TO REPRESENT TYPICAL RESULTS. ALL TESTIMONIALS ARE REAL. THESE RESULTS ARE MEANT AS A SHOWCASE OF WHAT THE BEST, MOST MOTIVATED CLIENTS HAVE DONE AND SHOULD NOT BE TAKEN AS AVERAGE OR TYPICAL RESULTS.
You should assume that products, programs or personal recommendations made by me, Paul J Lipsky and/or Dropshipping Titans, may result in compensation paid to me by those I recommend. I recommend resources that I use myself, unless it specifically states that I do not use that resource. I do recommend many products and services to my clients which I do not use myself. If you would rather that I not be compensated for these recommendations, go to Google and search for the item and find a non-affiliate link to use. You should perform your own due diligence and use your own best judgment prior to making any investment decision pertaining to your business. By virtue of visiting this site or interacting with any portion of this site, you agree that you're fully responsible for the investments you make and any outcomes that may result.